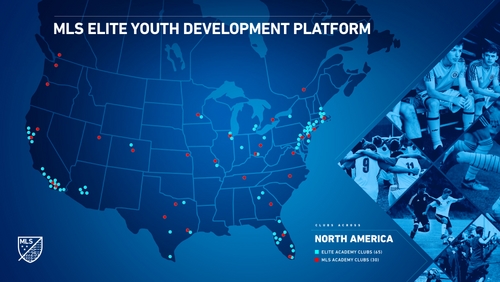 The MLS runs the top men and youth leagues in the country, and Chula Vista FC is the only club in the South Bay of San Diego County to join the elite league. It has the distinction of being a Founding Member of the prestigious MLS Youth Platform. In preparation for the elite MLS program, the founding member clubs will participate in a new league, the Elite Academy League, that will prepare the top players for the new MLS league in the U11 and U12 age groups. The Elite Academy League will also field reserve teams in the U13 through U19 age groups.
Chula Vista FC will put together the top talent in the South Bay to represent the region in the elite league. Albion SC and Nomads SC will be serving in the center of San Diego, and Our City SC will represent North County. Other distinguished clubs from Southern California will join the league, such as TFA and LAUFA, which are also Founding Members of the new MLS league. The new platform will include an elite year-round competition, player identification initiatives, and additional programming to produce the most favorable conditions for player development.
Executive Director and Head Coach, J. Hector Diaz, said, "It's an honor to be recognized among the top clubs in the country, but a bigger honor to represent our region, the South Bay of San Diego County. It reflects the amount of hard work we have put forward in the past decade to put our community on the map. One of our core values is "attitude," it is specific to having an approach to overcoming obstacles. The South Bay has an enormous talent pool available. We want to thank our families who have made it happened with their support. At Chula Vista FC, we are a real family, and we welcome everyone passionate about the game. We do not see any club in the South Bay as a rival, but we see our competitors outside of the South Bay."
Its youth side started the decade with a trip to Hawaii after crowning themselves National Cup champions in 2010. The 2004's won Albion Cup's 2016 top bracket by playing itself in an all Chula Vista FC final, which demonstrated their talent in all its glory. The age group also finished the US Soccer's Development Academy season ahead of all clubs in San Diego County, even above traditional clubs like Surf, Albion, and Nomads. The 2008s have reached the State Cup final in its highest level of play during the 2019 and 2020 tournaments.
Sign up today if you want to join the #1 elite program in the South Bay.