---
Youth Coach
| | | | | |
| --- | --- | --- | --- | --- |
| Alberto Diaz | Alejandro Medel | Alfonso Martinez | Brandon McClintock | Diego Mosqueda |
| Eddie Romo | Francisco Huerta | Francisco Ramirez | Hector Aguilar | Javier Castorena |
| Jorge Gomez | Josue Lopez | Luis Guzman | Luis Leon | Marcelo Benitez Jr. |
| Marcos Valadez | Melanie Huerta | Pablo Ramirez | Richard Chavez | Victor Andrade |
---

Technical Director / Head Coach: J Hector Diaz
USSF A License / National Youth License
Hector played soccer in San Diego's Presidio Soccer League at the Premier level as a youth player. During high school, he played soccer at Bonita Vista High School. In his senior year, he made the Union Tribune's All-Academic soccer team.
Hector received his first coaching license at the age of 15 years old and coached two teams to State Championships before he left to commence Air Force Basic Military Training in 2006. After one year away, he returned to coaching and won the Cal-South National Cup Championship. In 2011, Hector moved on to become the director of coaching of a local club with Chula Vista FC at only 25 years of age. In 2013, Hector led the BU19 National Cup team to a State Championship and traveled to Hawaii for Regionals. The team finished as a semi-finalist in Regionals, losing to the eventual Champions. In 2014, Hector led another side to the final of the BU19 Cal-South National Cup Championship. That same year Hector assembled a U23 team that won the Regional Championship in Utah and qualified the team to the most prestigious and longest-running competition in US Soccer; The Lamar Hunt U.S. Open Cup. Chula Vista FC became the Cinderella story of the Open Cup in 2015, playing in their first Cup and advancing to the 3rd round of the tournament. For two years in a row, Chula Vista FC is Region IV Open Division Champions, 2014, and 2015. In 2017 Chula Vista returned to the Open Cup and went past the first round again, losing in the second round to LA Wolves in overtime. In 2018, led by J. Hector Diaz, Chula Vista FC won the CalSouth State Cup Championship in the Open Division. In 2019 it reached the final of State Cup and qualified for the Open Cup in 2020.
---

Director of Coaching: Ruben Caño
Tecnico Deportivo Superior Nivel 3 / UEFA PRO
Rubén is a Level 3 Coach - Senior Sports Technician in Soccer by the R.F.E.F. (Royal Spanish Football Federation) and the National Association of Soccer Coaches of Spain. In addition to being a coach and promoter of methodology in high-performance centers, he is a professor at CENAFE (National Center for Coaches of Spain) in the subjects of Tactics, Technique, Team Management, Physical Preparation or Methodology, among others. He has offered papers in the Master of Sports Management of this Center.
He has been training coaches in Madrid and abroad, participating in different international projects. Hand in hand with Real Madrid for China, he has worked in the largest football school in the world in Guangzhou. He has directed seminars to update sports training in soccer in Colombia, Ecuador, Mexico, USA and South Korea, among other countries, focusing on the importance of improving the players in their knowledge of the game, integrating tactical, psychological, technical and physical capabilities.
In his first years of career, he was Sporting Director for three seasons and coach of the AD Alcorcón (LFP Club) for other three. Commentator of LFP and UEFA Champions League matches for the media and football columnist for the press written in South America. He has also worked for the Adidas International brand in sessions with teams from several countries.
---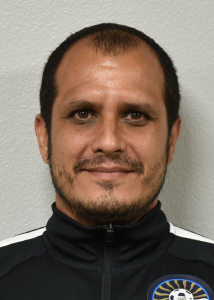 Head Coach of Goalkeeping Program
Former Professional Goalkeeper
Alfredo Toxqui is a goalkeeper born in Puebla, México, who played for Chivas de Guadalajara.
Alfredo played with teams connected to the legendary Mexican club, Chivas de Guadalajara, before his appearance for them. As a goalkeeper, he was known to have good reflexes and plays well under the goal. He debuted against Irapuato on the first match of the summer tournament in 2001, and the game ended in a draw (0-0). For the following competition, he was listed as the third goalkeeper, playing only two games against Irapuato and Atlante, receiving only one goal. Alfredo spent most of his career in First Division "A," now Liga de Expansión MX, in several teams until 2006.
Alfredo was welcomed onto Chula Vista FC in 2019, coaching a U13 team, and has now ascended to Head Coach of our Goalkeeping Program and Goalkeeper Coach of the MLS teams.
---
Interested in Coaching?
We are always looking for qualified coaches to join our ranks. If you are interested in joining our competitive program, please complete a Coaching Application Form and it will be submitted to our Director of Coaching J. Hector Diaz.
---